| | |
| --- | --- |
| | |
Elegant, bright panoramic 4 bedroom apartment, in historical stately palace overlooking the Turtle Fountain.
4 ample double bedrooms, 3 bathr., amazing frescoed sitting room w. antique coffered wooden ceiling, large dining-kitchen, 2 fitted terraces of which one panoramic with views of Rome's sights and domes.
High ceilings, tasteful furniture, modern appliances, all mod cons. Inviting, cozy and charming property, accommodating max. 8 persons in real beds.

Elevator;
Air conditioning / heating in each room;
Internet Wi-Fi high speed internet;
Colour TV with international and English/American channels;
Complete kitchen equipment, finest dishes, glassware; Washing machine, clothes dryer, iron, iron board, dishwasher;
Microwave, mixer, toaster, electronic scales;
Italian coffee pots, American coffee percolator, tea kettle
Baby stroller, SAFE;
Detailed property and area booklet with photos, map;
Nearby: grocers, shops, cafes, restaurants, delis, hammam & massage, beauty centre, hairdresser, jogging & bike track;



Piazza Mattei and Turtle Fountain (this page)


To Rome centre map, for the exact location.

Visit also:

To enquire, please write to:

help@romanhomes.com
Piazza Mattei is a hidden jewel of Rome's centre. It takes the name from the patrician Mattei family, whose palace is adjacent to the Costaguti palace, despite the latter was built before the Mattei's. Also the Costaguti palace has a square dedicated to it, on the side, however the main entrance since a few centuries is situated in Piazza Mattei.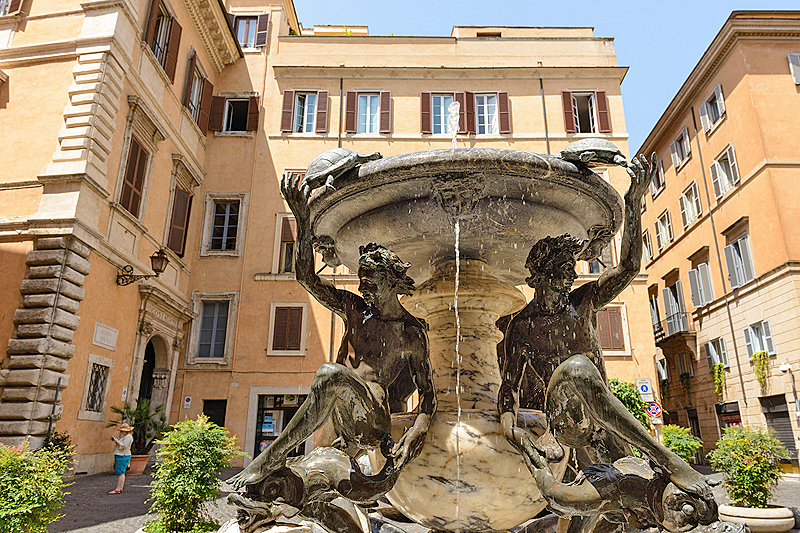 The square is famous for the "Fontana delle Tartarughe" (Turtle Fountain), built by Taddeo Landini between 1581-1588. The fountain is considered one of Rome's finest, and it is world-acclaimed: four replicas were built in the USA alone.
In the fountain, four bronze ephebes or adolescents hold with one hand a circular basin, and with the other they help a turtle to climb the basin. They ride 4 bronze dolphins, placed in 4 conch shells of amazing marble. Water spouts from the circular basins and from 4 putti in the shells and in the quadrangular final basin. Originally the ephebes held 4 other dolphins (in addition to the 3 on which they are standing), which were replaced in a renovation occurred in 1658 with 4 turtles.
The facade of the Costaguti Palace is stately and very refined.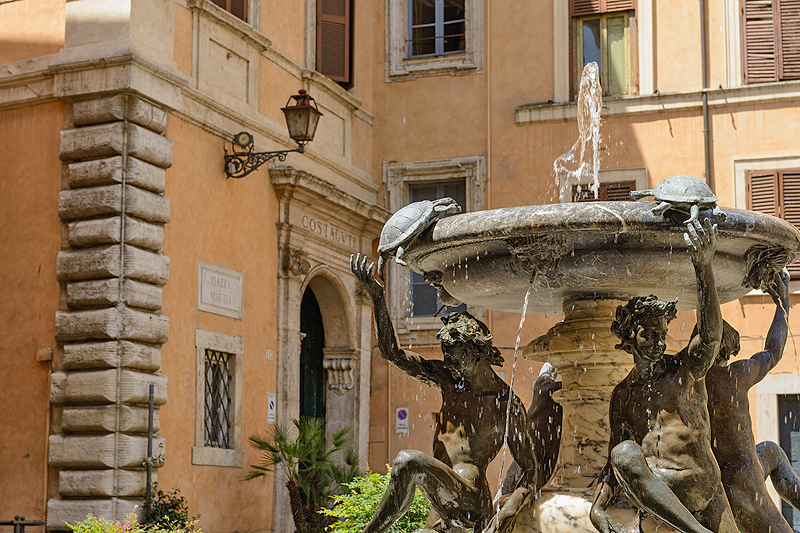 The lowest possible all inclusive weekly price is 2,980 Euro (low season in December before Christmas, for parties up to four persons).

We usually rent min. weekly, and usually following a Saturday to Saturday cycle in the good season.

In low season periods of 5 nights and exceptionally 4 might be considered, if dates interlock empty periods.



Prices in the good season or during the holidays (Xmas, New Year's etc.) are consistently higher, however there might periods or weeks with special hospitality rates. Enquire!

To enquire, please write to: help@romanhomes.com

Our PRICES are ALL INCLUSIVE. They include: rent, agency commission, taxes, cleaning fees (with linen / towels / soap supply), check-in/out done by a professional assistant, assistance during your stay, utility consumption of gas and electricity.

We are based in Rome, and we also prepare many side services and daily excursions. We handle every aspect directly. We are not an internet "portal", nor intermediaries.
For a detailed presentation of the rooms, please go to the INDEX on top of this page





Visit Rome | Rome panoramic views | Rome apartments and villas | Inquire | Rome travel guide | Rome map | Service | Resources
Roman Homes homepage