| | |
| --- | --- |
| | |
Elegant, bright panoramic 4 bedroom apartment, in historical stately palace overlooking the Turtle Fountain.
4 ample double bedrooms, 3 bathr., amazing frescoed sitting room w. antique coffered wooden ceiling, large dining-kitchen, 2 fitted terraces of which one panoramic with views of Rome's sights and domes.
High ceilings, tasteful furniture, modern appliances, all mod cons. Inviting, cozy and charming property, accommodating max. 8 persons in real beds.

Elevator;
Air conditioning / heating in each room;
Internet Wi-Fi high speed internet;
Colour TV with international and English/American channels;
Complete kitchen equipment, finest dishes, glassware; Washing machine, clothes dryer, iron, iron board, dishwasher;
Microwave, mixer, toaster, electronic scales;
Italian coffee pots, American coffee percolator, tea kettle
Baby stroller, SAFE;
Detailed property and area booklet with photos, map;
Nearby: grocers, shops, cafes, restaurants, delis, hammam & massage, beauty centre, hairdresser, jogging & bike track.



Second entry door (this page)


To Rome centre map, for the exact location.

Visit also:

To enquire, please write to:

help@romanhomes.com
The Turtles Dream apartment is endowed with two entry doors. The photo below shows them, and to their right, you can see also the second elevator of the apartment, for disabled persons.
The two entry doors of the Turtles' Dream apartment. The large one to the left, the main one, leads to the sitting room. Its two shutters can be both opened, to enable the passate of large suitcases. The second door, to its right, is shown in the photo below. It leads to all the rooms and spaces of the apartment. Finally, to the right, you can see the second, dedicated elevator for disabled persos, in addition to the normal one.
The second entry door, as mentioned, leads to all the rooms of the apartment. Yet specifically it first opens into a specific corridor, where you find the laundry room and the third bathroom. All this section of the apartment was recently entirely renovated, under the supervision of the Superintendence of Archaeological and Cultural Resources.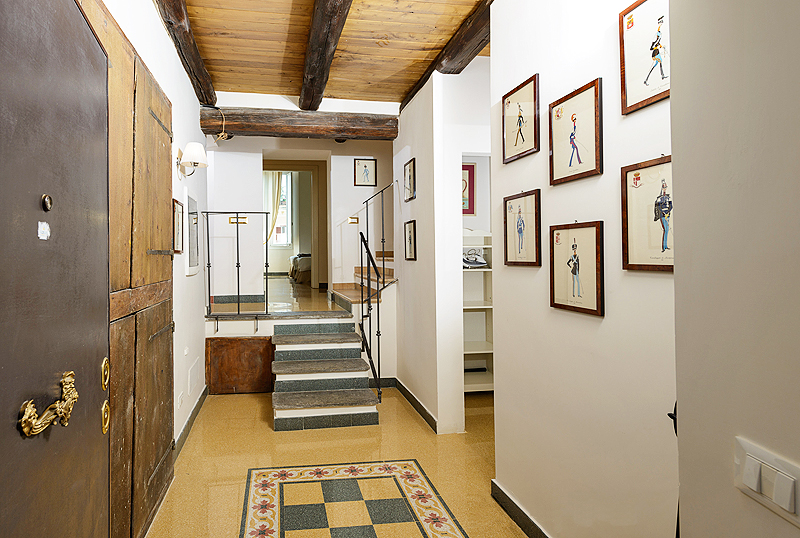 The corridor past the second entry door. It leads to the right to the third bathroom and to the laundry room (which can be seen indistinctly). After three steps, it also intersects with the main corridor of the apartment, leading to all the rooms (it is very near in particular to the twin bedrooms).
For a detailed presentation of the rooms, please go to the INDEX on top of this page





Visit Rome | Rome panoramic views | Rome apartments and villas | Inquire | Rome travel guide | Rome map | Service | Resources
Roman Homes homepage