| | |
| --- | --- |
| | |
Elegant, bright panoramic 4 bedroom apartment, in historical stately palace overlooking the Turtle Fountain.
4 ample double bedrooms, 3 bathr., amazing frescoed sitting room w. antique coffered wooden ceiling, large dining-kitchen, 2 fitted terraces of which one panoramic with views of Rome's sights and domes.
High ceilings, tasteful furniture, modern appliances, all mod cons. Inviting, cozy and charming property, accommodating max. 8 persons in real beds.

Elevator;
Air conditioning / heating in each room;
Internet Wi-Fi high speed internet;
Colour TV with international and English/American channels;
Complete kitchen equipment, finest dishes, glassware; Washing machine, clothes dryer, iron, iron board, dishwasher;
Microwave, mixer, toaster, electronic scales;
Italian coffee pots, American coffee percolator, tea kettle
Baby stroller, SAFE;
Detailed property and area booklet with photos, map;
Nearby: grocers, shops, cafes, restaurants, delis, hammam & massage, beauty centre, hairdresser, jogging & bike track;

To Rome centre map, for the exact location.

Visit also:

To enquire, please write to:

help@romanhomes.com
One of the main attractions of the Turtles' Dream apartment are the wonderful views you can see from its windows. All the main palaces of the area, old Rome roofs, and the Church of Santa Maria in Campitelli can be seen. This side of the apartment faces South-East, so it receives sunshine especially during all mornings. The other parts will then receive it in the afternoons.
One cannot help watching the Turtle Fountain from the apartment windows, and be mesmerised by it.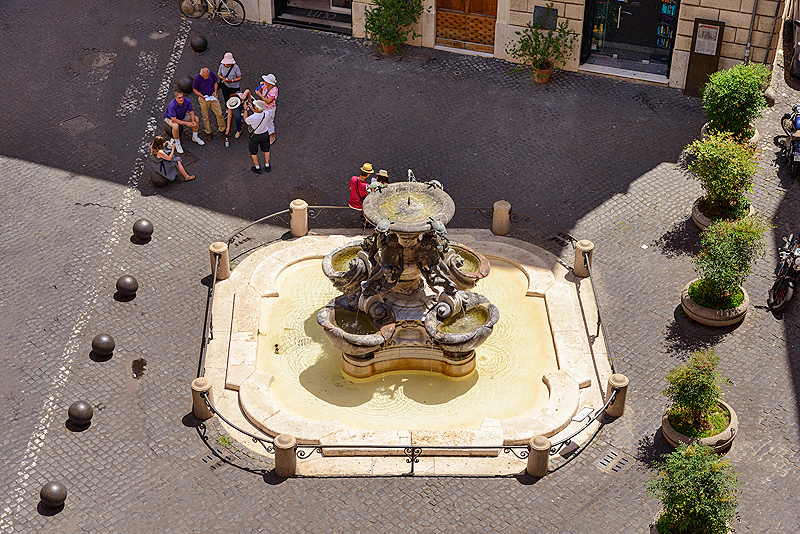 There are always tourists (and Romans!) at all times who stop to give yet another look and to take a picture of the fountain and of the Palazzo Costaguti. If you open the windows of the apartment, and listen carefully you can hear the sound of the gushing water.
It is interesting to watch other parts of the palace from the apartment windows. The following photo shows the dripstone (cornice) seen from the apartment windows.
For a detailed presentation of the rooms, please go to the INDEX on top of this page





Visit Rome | Rome panoramic views | Rome apartments and villas | Inquire | Rome travel guide | Rome map | Service | Resources
Roman Homes homepage