| | |
| --- | --- |
| | |
Elegant, bright panoramic 4 bedroom apartment, in historical stately palace overlooking the Turtle Fountain.
4 ample double bedrooms, 3 bathr., amazing frescoed sitting room w. antique coffered wooden ceiling, large dining-kitchen, 2 fitted terraces of which one panoramic with views of Rome's sights and domes.
High ceilings, tasteful furniture, modern appliances, all mod cons. Inviting, cozy and charming property, accommodating max. 8 persons in real beds.

Elevator;
Air conditioning / heating in each room;
Internet Wi-Fi high speed internet;
Colour TV with international and English/American channels;
Complete kitchen equipment, finest dishes, glassware; Washing machine, clothes dryer, iron, iron board, dishwasher;
Microwave, mixer, toaster, electronic scales;
Italian coffee pots, American coffee percolator, tea kettle
Baby stroller, SAFE;
Detailed property and area booklet with photos, map;
Nearby: grocers, shops, cafes, restaurants, delis, hammam & massage, beauty centre, hairdresser, jogging & bike track.



Bathrooms and the laundry room (this page)


To Rome centre map, for the exact location.

Visit also:

To enquire, please write to:

help@romanhomes.com
The bathrooms of the apartment are equally elegant, impeccable, and spotless.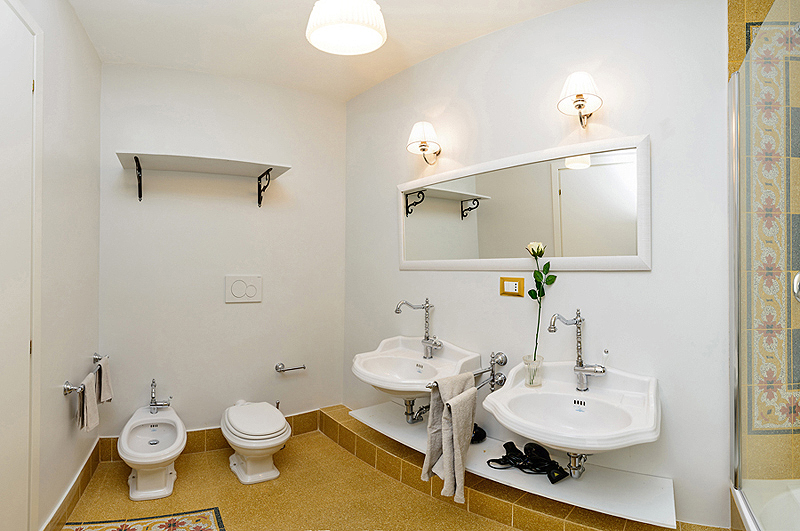 Opposite view of the impeccable master bedroom bathroom.
The bathroom of the second matrimonial bedroom uses the same interplay of the elegant tiles in the shower enclosure.
The third bathroom pertains to the two twin bedded room. It is placed near them, in a completely newly renovated section of the apartment.

The right photos shows the entry room of the bathroom, which has a L shape (making it impossible to photograph it in just one picture).

You can see the elegant sink and mirror, and on top the roof window of the bathroom.

The next photo shows instead the body of the bathroom.
The main body of the third bathroom is very elegant, with "graniglia" type of marble tiles, in delicate red pastel colours. As you can see the bathtub is highly decorated, and it is endowed with a glass shield to prevent water sprays to drip out of the tub.
A treat of the bathroom are two rare small wooden wardrobes of the 18th century (!), which paintings of how Old Rome was at that stage.

.
LAUNDRY ROOM
As you enter the laundry, you find another wardrobe, larger.

This piece of furniture is used by the cleaning staff to store their working materials, and it is not available for the guests.

As you can see in the right photo you find though other useful items. A ladder, the iron board, detergents etc.
The laundry has an "C" form. In its final part you find the washing machine / clothes dryer.

It is a very efficient machine, which can clean up to 7-8 Kilograms (app. 15-17 Lbs.) of garments.

It also dryes garments too, so it combines two machines in one.

Its operation is simple, although it is different from the one of North American machines. The apartment booklet has clear and detailed instructions, also with photos, of how it works.

Rigth: the washing machine / clothes dryer
For a detailed presentation of the rooms, please go to the INDEX on top of this page





Visit Rome | Rome panoramic views | Rome apartments and villas | Inquire | Rome travel guide | Rome map | Service | Resources
Roman Homes homepage