| | |
| --- | --- |
| | |
Elegant, bright panoramic 4 bedroom apartment, in historical stately palace overlooking the Turtle Fountain.
4 ample double bedrooms, 3 bathr., amazing frescoed sitting room w. antique coffered wooden ceiling, large dining-kitchen, 2 fitted terraces of which one panoramic with views of Rome's sights and domes.
High ceilings, tasteful furniture, modern appliances, all mod cons. Inviting, cozy and charming property, accommodating max. 8 persons in real beds.

Elevator;
Air conditioning / heating in each room;
Internet Wi-Fi high speed internet;
Colour TV with international and English/American channels;
Complete kitchen equipment, finest dishes, glassware; Washing machine, clothes dryer, iron, iron board, dishwasher;
Microwave, mixer, toaster, electronic scales;
Italian coffee pots, American coffee percolator, tea kettle
Baby stroller, SAFE;
Detailed property and area booklet with photos, map;
Nearby: grocers, shops, cafes, restaurants, delis, hammam & massage, beauty centre, hairdresser, jogging & bike track.


To Rome centre map, for the exact location.

Visit also:

To enquire, please write to:

help@romanhomes.com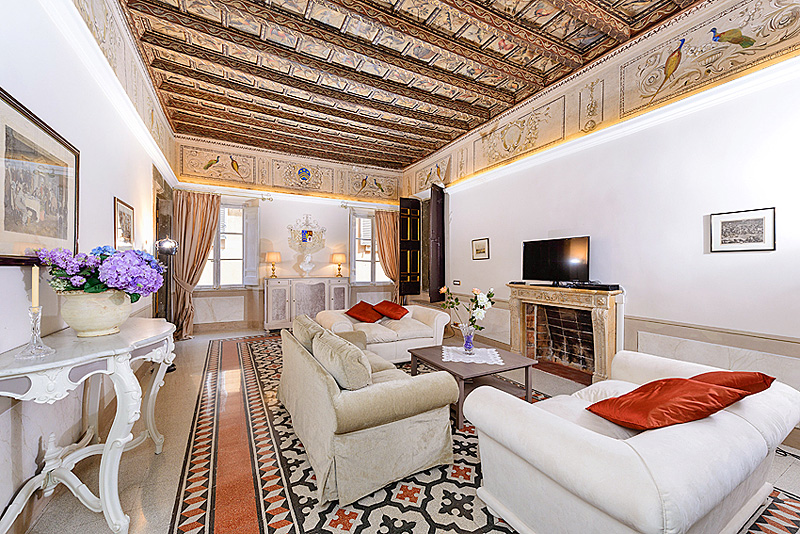 The floor is made of a particular material, called "Graniglia", fashionable in the 19th century in Italy. It is made of inclusions of various types of marbles bonded together, to render a mosaic effect. The original wooden coffered ceilings are decorated ingeniously. In each coffered frame there is a painting of a different species of bird. All around the higher part of the walls there are frescoes of peacocks, alternated with the coat of arms of the Costaguti family.
This room is endowed with three large sofas, a wooden table, a wonderful chest of drawers, and a table just past the entry door.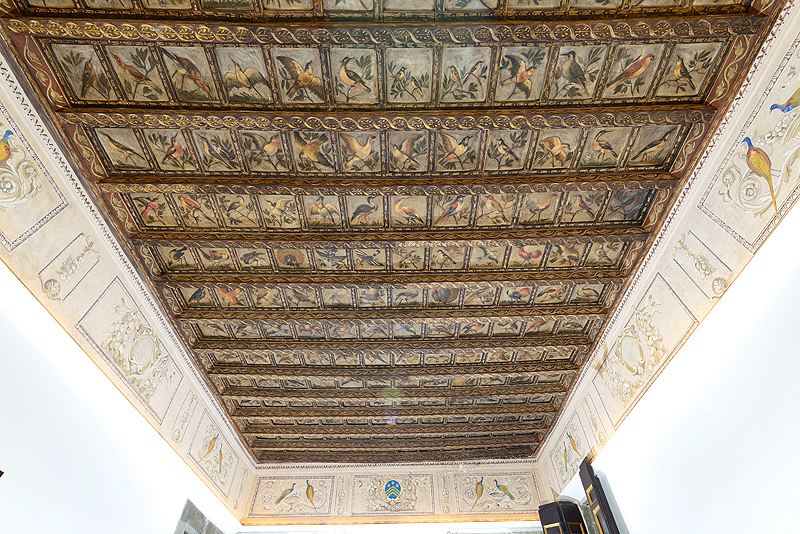 .
The noble owners of this property are extremely kind, hospitable and with a modern mindset. They love to share their passion for history with guests.

In the wall of the sitting room facing the windows, overlooking the street Via dei Falegnami, - top left photo - you find the coat of arms of the noble and kindest owners.
It is a composite coat of arms, as the family includes two branches (right photo). On its left side you find the Costaguti symbols (described above), in the centre you find the main symbol of the Afan de Rivera family (three horizontal green lines with a gilded background), which is the graphical representation of the Spanish slogan "Por la gracias de Dios" (By the grace of God). You also find the symbol of the Enriquez family, which merged at some stage within the dinasty (standing red lion and the two towers).
In the lower ribbon of the coat of arms you find the Latin motto of the Costaguti: "Evexit in sidera virtus", i.e. "Virtue was raised to the stars".
For a detailed presentation of the rooms, please go to the INDEX on top of this page





Visit Rome | Rome panoramic views | Rome apartments and villas | Inquire | Rome travel guide | Rome map | Service | Resources
Roman Homes homepage