Jewish quarter - Campo de' Fiori:

"Roman Vista", three bedrooms three bathrooms apartment
An elegant, silent, bright apartment, tastefully furnished and skillfully equipped. It includes three bedrooms, three bathrooms, a sitting room, a separate dining room, the kitchen - laundry room.

Air conditioning

Telephone

Colour TV

High speed Wi-Fi internet connection

Washing machine - dishwasher

Elevator

Autonomous heating

American coffee percolator

Daily cleaning
Personal guide of Jewish Rome on request

To Rome centre map, for the exact location of each property.

Visit also:
This very large and elegant apartment (170 Sq. meters or appr. 180 Sq. Ft.) overlooks the Jewish quarter and the charming squares around it, on the way to Campo de' Fiori - Piazza Navona. From the windows and from the long balcony encircling the unit you have most intriguing views of Rome's domes (both of Catholic churches and of the main Jewish synagogue), as well as of old Rome's roofs, of the piazzas and streets of the area.
The brightness, the silence, the window views, and high ceilings (nearly 5 meters, or 16 feet!), the tasteful furniture and layout of the property all contribute to its typical Roman charm. The floors are wooden (the breed is Iroko, similar to ash tree).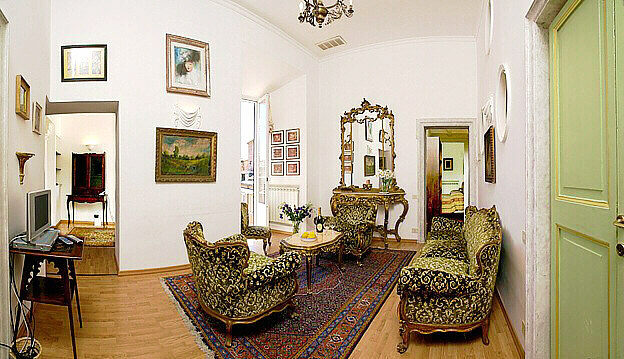 Roman Vista, the sitting room
The sitting room is at the centre of the apartment, all other rooms stretch from it in three directions (please look also the 2D floor plan). This room has classical furniture and fittings (sofa, two armchairs, chairs, tables, mirror, chandelier, large Persian carpet etc.). Fine paintings and old rare prints adorn the room.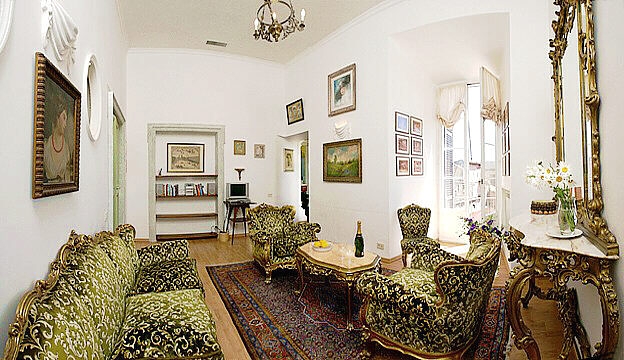 The sitting room, opposite view
Three internal round windows, which can be lit by means of conceiled lamps, contribute to the charming atmosphere, as well as bookshelves obtained from an ancient door of the noble palace. The frame of this old door, and of the doors leading to the dining room and to the bedrooms are made of a rare light marble, unobtainable nowadays.
Yet again the most interesting feature of the room is its brightness, and the window view of old Rome, and particularly of the Jewish quarter, which gives you naturally and immediately the feel of Rome's historical and cultural legacy.

(left) Roman Vista, sitting room view. From left to right: the quadrangular dome of the main Jewish synagogue, the Jewish high school, the initial part of Via Portico D'Ottavia and of Piazza Cinque Scole, and finally beneath the apartment Piazza Costaguti with the small dome of Tempietto del Carmelo (Little Carmel Temple).

For the other rooms and features of the apartment, please go to the index on top of this page.

Visit Rome | Rome panoramic views | Rome apartments and villas | Inquire | Rome travel guide | Rome map | Service | Resources
Roman Homes homepage