Jewish quarter - Campo de' Fiori: "Roman Vista":

the twin bedroom
An elegant, silent, bright apartment, tastefully furnished and skillfully equipped. It includes three bedrooms, three bathrooms, a sitting room, a separate dining room, the kitchen - laundry room.

Air conditioning

Telephone

Colour TV

High speed Wi-Fi internet connection

Washing machine - dishwasher

Elevator

Autonomous heating

American coffee percolator

Daily cleaning
Personal guide of Jewish Rome on request

To Rome centre map, for the exact location of each property.

Visit also:
As most rooms, also the double bedroom is accessed through the sitting room. Endowed with the same classical, tasteful charm of the master bedroom, it has its distinct personality, in particular of the cloth of the curtains and of the bedcovers. Also the tiles are the same.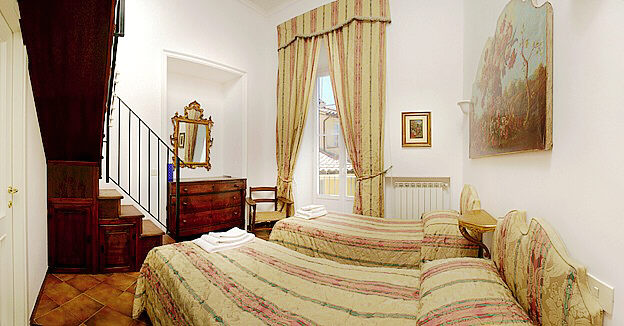 The twin beds room, seen from its door
Also this room has a spacious loft or gallery room (loft), including a separate bed and a wardrobe. Please also look the 2D floor plan to understand the layout of the lofts of this apartment.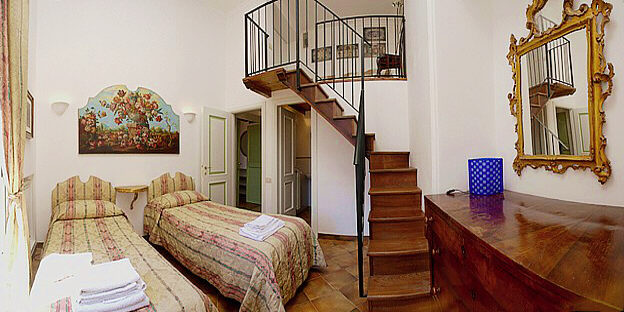 Twin bedded room, opposite view. Notice the loft or gallery room.
There is also an en-suite large bathroom, with bathtub and hand-held shower. An old fashioned chest of drawers and bed-side tables complete this room, and as in all the apartment, you find finest paintings, mirrors and lamps.
The particular feature of both bedrooms, as well as of the sitting room, is to be endowed with splendid views of Rome.

All the above mentioned rooms, as well as the foyer, have access to the long "L" shape balcony, overlooking old Rome, the roofs of the old homes and palaces, the domes of Catholic churches (both imposing, like the dome of the church San Carlo ai Catinari, or the charming Tempietto del Carmelo- Little Carmel Temple - right under the palace), and naturally the peculiar, quadrangular dome of the main Jewish Synagogue.

(Left): Window view from the bedrooms.
For the other rooms and features of the apartment, please go to the index on top of this page.

Visit Rome | Rome panoramic views | Rome apartments and villas | Inquire | Rome travel guide | Rome map | Service | Resources
Roman Homes homepage