Campo de' Fiori - Jewish quarter:
"Roman Vista": the master bedroom
An elegant, silent, bright apartment, tastefully furnished and skillfully equipped. It includes three bedrooms, three bathrooms, a sitting room, a separate dining room, the kitchen - laundry room.

Air conditioning

Telephone

Colour TV

High speed Wi-Fi internet connection

Washing machine - dishwasher

Elevator

Autonomous heating

American coffee percolator

Daily cleaning
Personal guide of Jewish Rome on request

To Rome centre map, for the exact location of each property.

Master bedroom (this page)

Visit also:
The master or double bedroom is accessed through the sitting room. The weight of history and of tradition of the palace and the taste of its aristocratic owners appear, in all the details. The floor is tiled, as opposed to most other rooms. The tiles are a special "monocottura" baked clay, resembling the "cotto" tiles, yet more modern and elegant.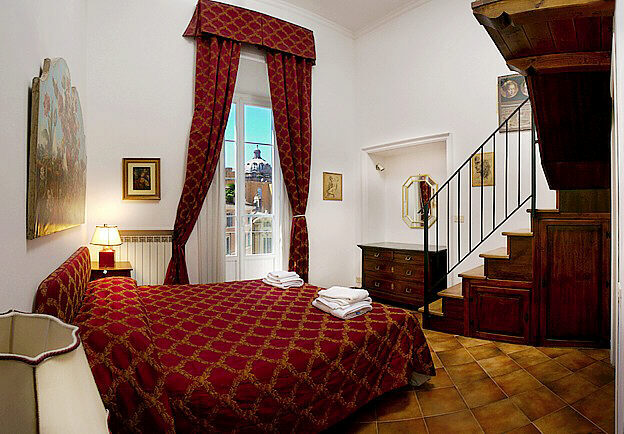 Master bedroom
The peculiar feature of the two main bedrooms is that they have a large loft (gallery room), accessed with a very elegant wooden stair (the work of craftsmen). In the loft you find a full-fledged bed, and a wardrobe. Please also look the 2D floor plan to understand the layout of the lofts of this apartment.
From the window, as it better described in the similar twin-bedded room, you have panoramic views of Rome's domes and roofs, and of the historical piazza beneath.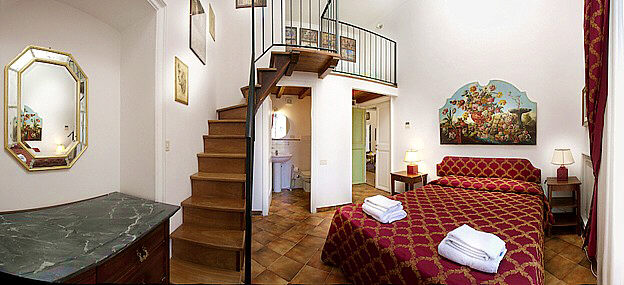 Master bedroom, opposite view, notice the loft or gallery room with own bed and wardrobe.
There is also an en-suite bathroom, with bathtub and hand-held shower. An old fashioned chest of drawers and bed-side tables complete this room, and as in all the apartment, you find finest paintings, mirrors and lamps.
PRICE

THIS PROPERTY IS CURRENTLY RENTED LONG TERM, PLEASE INQUIRE

Our PRICES are ALL INCLUSIVE. They include: rent, agency commission, cleaning fees (with linen / towels / soap supply), check-in/out done by a professional assistant, assistance during your stay, utility consumption of gas and electricity with generous limits.

Our quality properties are carefully selected, prepared and maintained.

We handle every aspect directly and personally. We are not an internet "portal", nor intermediaries: we don't "collect" many properties just to book them, cash commissions and pass on to others giving poor service: we only have limited selected properties to ensure attentive service. We will follow you in every stage and detail: extensive e-mail property and travel guidance before renting, check-in/out and assistance during the rental.

We are based in Rome, and we also prepare many side services and daily excursions.
For the other rooms and features of the apartment, please go to the index on top of this page.

Visit Rome | Rome panoramic views | Rome apartments and villas | Inquire | Rome travel guide | Rome map | Service | Resources
Roman Homes homepage