Navona - Campo de' Fiori - Jewish quarter:
"Roman Vista": the bathrooms
An elegant, silent, bright apartment, tastefully furnished and skillfully equipped. It includes three bedrooms, three bathrooms, a sitting room, a separate dining room, the kitchen - laundry room.

Air conditioning

Telephone

Colour TV

High speed Wi-Fi internet connection

Washing machine - dishwasher

Elevator

Autonomous heating

American coffee percolator

Daily cleaning
Personal guide of Jewish Rome on request

To Rome centre map, for the exact location of each property.

Visit also:
The apartment is endowed with THREE bathrooms. The ones of the double bedroom and of the twin bedroom are nearly identical in size and laytout. The photo below shows the bathroom of the twin bedded room. Both bathrooms thus include a bathtub with hand-held shower, a sink with mirror, a bidet, the toilet, and naturally towels etc. Notice the high-vault wooden beams ceilings.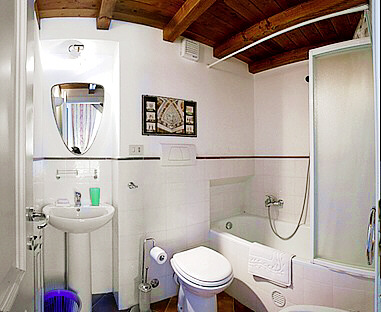 The bathrooms of the twin bedroom and of the master bedroom are nearly identical,
so we just published the photo of one of them.
The bathroom of the third, simpler bedroom is in a different area of the apartment, adjacent to the third bedroom, and it can also be accessed from the foyer.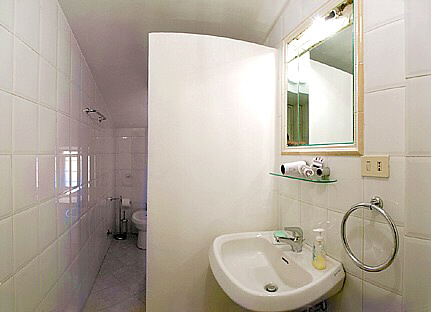 Bathroom of the third bedroom.
Just after the door one finds the sink with mirror. Behind it, there is the large shower box, and behind it you find the toiled and the bidet. This bathroom has own window (you can see the reflex of its light on the wall to the left).
For the other rooms and features of the apartment, please go to the index on top of this page.

Visit Rome | Rome panoramic views | Rome apartments and villas | Inquire | Rome travel guide | Rome map | Service | Resources
Roman Homes homepage