Campo de' Fiori - Jewish quarter:
"Roman Vista": the kitchen and the laundry
An elegant, silent, bright apartment, tastefully furnished and skillfully equipped. It includes three bedrooms, three bathrooms, a sitting room, a separate dining room, the kitchen - laundry room.

Air conditioning

Telephone

Colour TV

High speed Wi-Fi internet connection

Washing machine - dishwasher

Elevator

Autonomous heating

American coffee percolator

Daily cleaning
Personal guide of Jewish Rome on request

To Rome centre map, for the exact location of each property.

Kitchen and laundry (this page)

Visit also:
The kitchen is accessed through the dining room, the two rooms actually form a section of their own. It is well equipped, as it includes a dishwasher, ample fridge-freezer, oven, and all the cooking utensils.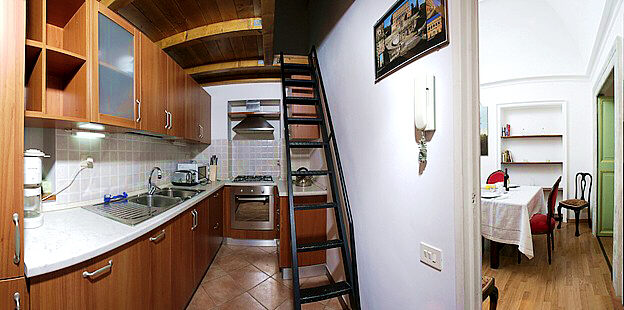 The kitchen, with glimpse of the dining room.
In addition, the room is endowed, like most rooms of the apartment, with a gallery room, used as laundry. You thus find the washing machine, the drying rack, and the ironing board, complete with a high quality iron (generating high pressure steam).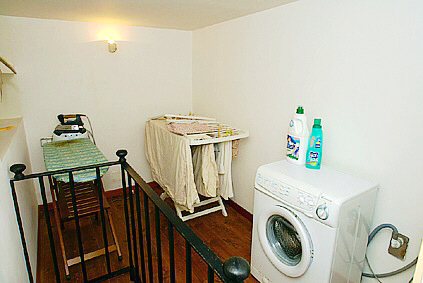 The laundry room.
For the other rooms and features of the apartment, please go to the index on top of this page.

Visit Rome | Rome panoramic views | Rome apartments and villas | Inquire | Rome travel guide | Rome map | Service | Resources
Roman Homes homepage