Navona - Campo de' Fiori - Jewish quarter:

"Roman Vista": the entrance, the foyer
An elegant, silent, bright apartment, tastefully furnished and skillfully equipped. It includes three bedrooms, three bathrooms, a sitting room, a separate dining room, the kitchen - laundry room.

Air conditioning

Telephone

Colour TV

High speed Wi-Fi internet connection

Washing machine - dishwasher

Elevator

Autonomous heating

American coffee percolator

Daily cleaning
Personal guide of Jewish Rome on request

To Rome centre map, for the exact location of each property.

Visit also:
As soon as you pass the front door a spacious foyer appears. It is divided in two sections. The first works as the entrance of the apartment. You find two desks (large and small) and chairs used to lay keys and other items upon entering the apartment. You find also a small built-in wardrobe including all cleaning material (broom, rags, detergents etc.).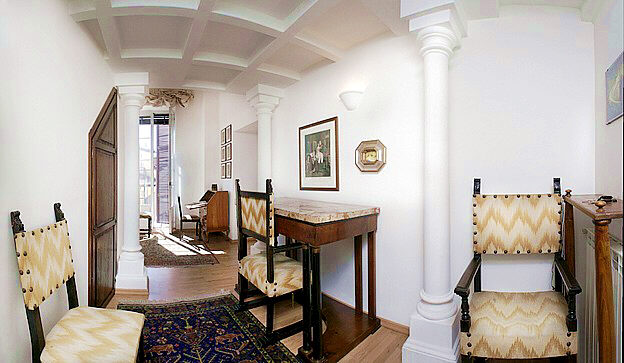 The foyer, seen from the entrance of the apartment.
The second part of the foyer is used as a study, as it features a wooden desk and shelves, and it includes the telephone and the WI-FI high speed internet connection. It is thus a very useful place to hook your laptop and to study or work.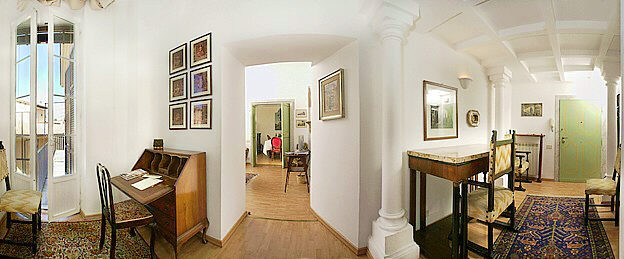 Second part of the foyer, used as study.
As you can see, from the foyer you access all parts of the property: the sitting room (and thus the dining room and the bedrooms), the long balcony, and also the section with the smaller bedroom (and its bathroom), which is to the left, as soon as you enter the apartment.
The foyer is also endowed with fine paintings and prints, and with two carpets.
For the other rooms and features of the apartment, please go to the index on top of this page.

Visit Rome | Rome panoramic views | Rome apartments and villas | Inquire | Rome travel guide | Rome map | Service | Resources
Roman Homes homepage