Campo de' Fiori - Jewish quarter

Tortoise apartment:

Overview

Finest three bedroom three bathroom apartment with sitting room, dining room, large terrace with views, in an elegant historical palace facing the famous Tortoise fountain. Excellent fittings and equipment.

Air conditioning

Colour TV with satellite dish

Fully equipped kitchen

Washing machine, dishwasher, microwave

American coffee percolator
Normal landline telephone
Internet Wi-Fi high speed internet

Personal guide of Jewish Rome on request

Visit also:

To Rome centre map, for the exact location.
When you think of Rome and Italy, think of experiencing everything this apartment can offer you. Situated in an elegant historical palace renowned for its world-acclaimed frescoes, it faces a famous quiet square (Piazza Mattei), endowed with Rome's most charming fountain (the Tortoise Fountain). The apartment is finely appointed, in pristine conditions, and spacious (170 Sq. Mts., appr. 1,800 Sq. Ft.), with three double bedrooms, three bathrooms, a sitting room, a separate dining room, a kitchen, and a breakfast corner. It is situated at the 3rd European floor (4th American), and it is endowed with elevator.
| | |
| --- | --- |
| The sitting room, seen from the foyer of the apartment | The large, sunny and panoramic terrace overlooking old Rome's domes and roofs. |
A large roof garden of the same size of the apartment, with panoramic views of old Rome's roofs and domes, completes the property.
The courteous proprietors are among Rome's most reputable patrician families, owning the palace from the Renaissance age. They handle every aspect of the palace and of the apartment. Morover the proprietor, usually (95% of cases) welcomes personally our guests, and should they like, he will tour them in the quarter to explain its history, its architecture, and where shops and groceries can be found. This is a complimentary gesture of hospitality, thus free.
The property is very well equipped. Fully air conditioned, it also includes a satellite colour TV to watch English speaking channels, a full-fledged kitchen (with cutlery, dishes, microwave, dishwasher etc.), a normal landline telephone, and Wi-Fi fast internet connection. The apartment is accessed through an elevator.

(Right): The dining room
All aspects of this apartment are carefully and cleverly taken care of, revealing the fine taste of the proprietors. Fine paintings of old masters, mirrors and stuccoes decorate the walls. The furniture (both classical and modern) is mannerly, and the fittings are impeccable. The attention to detail applies also to all the services (dishes, cups, jugs, sugar bowl etc.), marked with the coat of arms of the family.
| | |
| --- | --- |
| Master bedroom | Its sparking bathroom |
The apartment faces Via dei Falegnami (Carpenters' street), a quiet street, still with the original craftsmen, and also intruiguing shops (silverware, bookshops, boutiques etc.), and some fine restaurants and cafes.
| | |
| --- | --- |
| A treat, the breakfast corner | The fully equipped kitchen |
You can have an overall picture of this finest, unobtainable property in this 3D floor plan, a Roman Homes® innovative feature.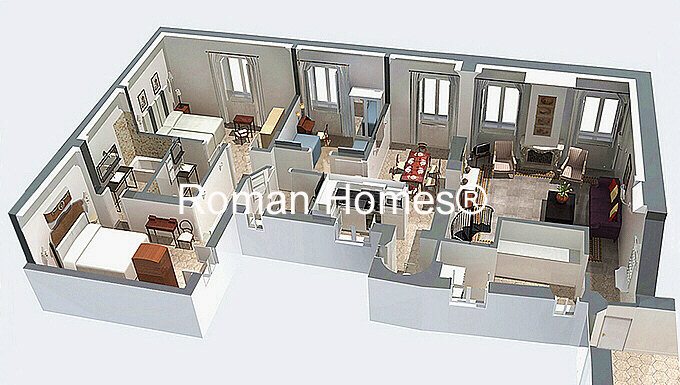 For a detailed presentation of the rooms, please go to the INDEX on top of this page or - best - look the 3D FLOOR PLANS in different angles (an innovative feature) or, alternatively, just click any space of both the 3D or 2D FLOOR PLAN, you will immediately go to the page with photos presenting it.





Visit Rome | Rome panoramic views | Rome apartments and villas | Inquire | Rome travel guide | Rome map | Service | Resources
Roman Homes homepage