The sitting-dining room is spacious and elegant. Like all the rooms, it has high-vault wooden beams ceilings. It includes a fireplace, and a copy of large 17th century map of Rome. It was made by a geographer of that era, and it so accurate that it is used to understand the exact layout of the town and of its buildings even today! You find also an elegant and very comfortable double sofa bed (with wooden slats and quality mattress).
The photo below shows the opposite view of the sitting room.
The sitting room also includes a nice walnut table, which can be made larger for six persons. There are six chairs upholstered with velvet (only four are shown in these photos), following Louis 16th style. and an armchair.
Two little walnut tables, another little table covered with a marble slab, and fine paintings complete the furniture.
The equipment of this room includes a Sony "Bravia" 37 inches brand new color TV with satellite aerial (dish, to watch English speaking and international channels), a Sony stereo Hi-Fi (with CD player, tuner, tape deck), a wall mounted ventilator with rheostat (like in all the rooms), a halogen lamp.
Every room has quality air conditioning, with external engine and silent internal blowera. In addition, every room has a silent, large ventilator in the ceiling, which can be regulated at various speeds, to generate fresh breeze.
Through one door of the sitting room you can enter the private patio.
The patio is appr. 50 sq. Mts. (app. 520 sq. Ft.) large, and it has a pergola (bower) with plants, to protect from sun light as you sit. It includes a table with chairs to dine "al fresco", a smaller table to serve drinks, and many vases with climber plants. It is extremely quiet.
It is noteworthy that it has also another entrance, from the corridor of the second and third bedrooms.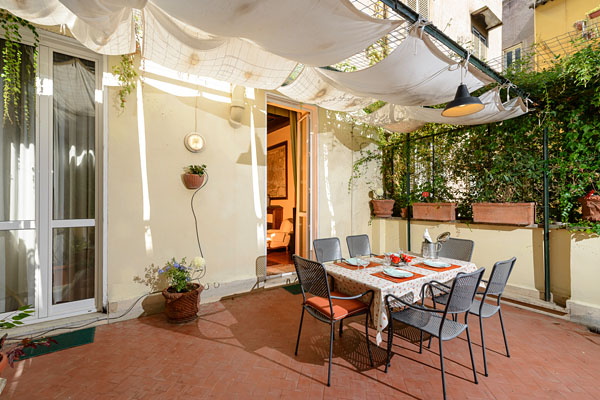 A closer look of the table and of the terrace entry
The terrace is surrounded by vases with flowers and plants, and ivy which encircles it all.
The terrace can thus be accessed separately from all the bedrooms and from the kitchen, so it can be used by the each member of larger groups without disturbing the other party persons.