Campo de' Fiori - Jewish quarter

The Turtles Nest:

Floor plan - Rome map
Finest three bedroom two bathroom apartment with sitting room, dining room, panoramic terrace / roof garden with views, BBQ and additional kitchen, in an elegant historical palace facing the famous Tortoise fountain. Excellent fittings and equipment. Elevator.

Air conditioning

4 Colour TV sets with with satellite dish to watch English and intl' channels

Internet Wi-Fi high speed internet
DVD possibly combined with Bluetooth, Hi-Fi Stereo
Fully equipped kitchen + second kitchen and BBQ in the terrace

Washing machine, dishwasher, microwave

American coffee percolator, Italian coffee pots
Normal landline telephone

Floor plan and map (this page)

Visit also:

To Rome centre map, for the exact location.

To enquire, please write to:

help@romanhomes.com
FLOOR PLAN or APARTMENT MAP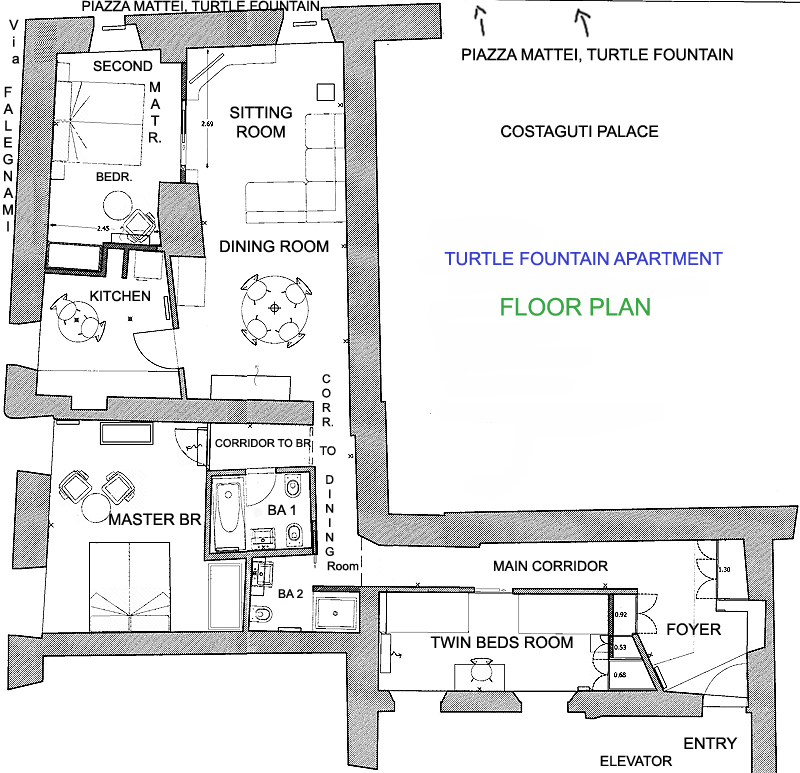 The floor plan, or apartment map of the Turtle nest apartment.
Only the apartment is shown, not of the panoramic terrace and of its additional kitchen.
OLD ROME'S CENTRE MAP LOCATION INDICATION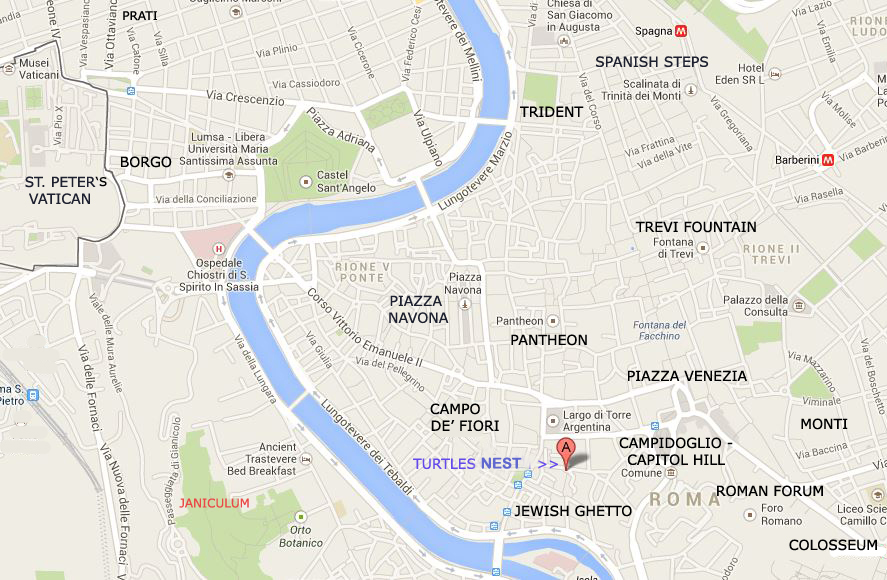 Piazza Mattei and the Palazzo Costaguti are located in the perfect heart of Rome, between the Campo de' Fiori and the Jewish Ghetto, near Piazza Navona and the Pantheon, and also close to the Roman Forum.
These famous central districts have a completely different personality: Piazza Navona is centred around the elegant square, its marvellous fountains and churches, and it is renowned for its chic, Dolce Vita atmosphere. Campo de' Fiori is Rome's liveliest area, with its morning market, its grocery shops, and as mentioned its bohemian character. The Jewish Ghetto is uniquely intriguing, for its bi-millenary inhabitants and old Roman traditions, its historical shops / restaurants / and also its Jewish sights (the main synagogue, Rome's Jewish Museum etc.). In the end, the property is situated in a uniquely quintessential Rome location, at walking distance to all its sights.
The quarter also couldn't be more pleasant, lively, and brimming over with life, restaurants, cafes, shops, grocers, bars, clubs, social activities and events. As one guest of the Turtles Nest apartment wrote in a review, it is a location to die for!





Visit Rome | Rome panoramic views | Rome apartments and villas | Inquire | Rome travel guide | Rome map | Service | Resources
Roman Homes homepage